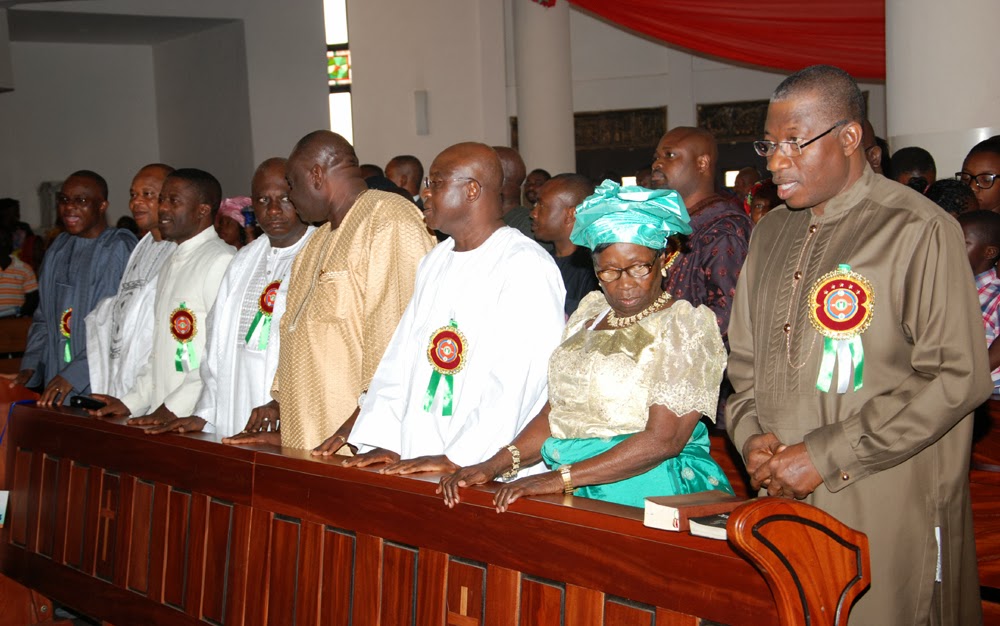 JONATHAN'S MOMENTUM
There are a few surprises in store for the opposition party before February 2015. And it will augur well for GEJ. The flag-off of the Presidential Campaign in Lagos today was very, very encouraging and intimidating too for the opposition.
As a commentator said 'millions of undecided voting Nigerians may change their minds in the next few days and vote for President Jonathan.' I agree.
The man is a Good Man. He has a Good Heart. He is just a simple Man. Nigerians are not used to those kind of people at the helm.
The flag-off of the GEJ campaigns has given the President a momentum. A huge one. I particularly like what Governor Aliyu of Niger State said. 'We know what happened after they (Buhari) failed to win in 2011. Many people were killed. This time around, we will not allow it'. Splendid.

And it was very touching and encouraging to see PDP's Gubernatorial candidate for Lagos, Jimi Agbaje holding hands with Musiliu Obanikoro on the podium in unity. It is very possible that Jimi will win Lagos. Very possible.
Jonathan gave a great speech. He came out very confident. He made a great move and addressed directly the YOUNG voters, those who turned 18 and are going to vote for the FIRST TIME. It was a masterstroke. He's a younger candidate than Buhari and the youths of voting age can relate with him more. He got to them in his speech.

This is a new Jonathan. He has come out all guns blazing. Perhaps he got my open memo about him watching the movie 'The American President' starring Michael Douglas and watch particularly the last speech Michael Douglas gave when he addressed his opponent on camera? I wrote that he should watch that and gain traction from it.

He spoke about security and asked the youths to ask Buhari 'Ask him if he bought any rifle at all when he was HEAD of State. He refused to build security capacity and he instigated crisis and is now coming to tell you that we have no security! Ask him please!'
He spoke on corruption and apologised to Federal Civil servants for delayed salaries but explained why. The software for salary payments which is sophisticated shut down attempted diversion of funds by some people and it is now being fixed.
He said 'any country that does not obey the rule of law is a jungle. He ( Buhari) keeps saying 'I will jail people'. How? Is that how to rule? Jailing people for 300 years in his time. And he wants to come back to continue without rule of law?'
He said 'Ask them ( Buhari) if they built any secondary or Primary school or university while in office. Ask them. But I have built 12 NEW Federal Universities with more in the North even!'
He kept harping on the false lies and propaganda of the APC and countered with facts.
'We are ready to liberate ALL Nigerian women' he said
He spoke about MEND dumping him. 'The Leader of MEND is one Henry Okah. He attempted to assassinate me in 2010 in Abuja and he is now in jail in South Africa. For treason! And now they say someone who is in jail for treason is supporting BUHARI! Is that the kind of leader you want to vote in? One who is supporting a treasonable person?' Chai!
He apologised to Lagosians for the traffic jam his campaign must have caused. Good move. He cares.
GEJ gave a fantastic speech. I was impressed. I saw a new spirit in the man today and I was happy.
Jonathan has gained momentum. I can bet the opposition will now start twisting his words as usual out of fear. But He has reached out and made his point.
Sir, you have my vote.
'FAILBUHARI 14TH' 2015.