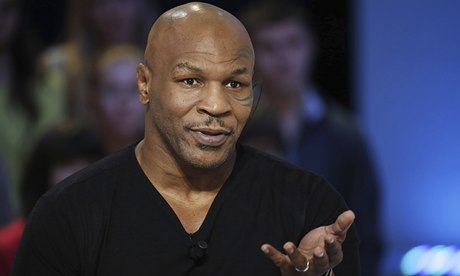 Former world heavyweight champion boxer and convicted rapist Mike Tyson says he is "greatly disappointed" to discover he is banned from entering the UK.
Tyson, 47, was due in London this week as part of a promotional tour for his new autobiography Undisputed Truth.
His publishers said recent changes to UK immigration laws meant he was unable to travel to the country and has been re-routed to Paris instead.
Tyson is currently booked in for a British tour for his one-man Broadway show, directed by Spike Lee, which is booked for eight nights in March next year in London, Glasgow and Manchester.
In a statement to the Press Association, Mr Tyson said he was "greatly disappointed" when he learned of the immigration law changes that came into effect last December.
"I have been coming to the UK consistently in the past decade so this change is disheartening since it affects my current entry standing," he said.
"I apologise to my fans that were inconvenienced, however, please know I am currently working diligently with the proper authorities to regain access next year for my UK tour."
Tyson said he had a great deal of respect for the UK's laws and would continue taking the proper steps for re-entry.
A spokesman for Harper Collins said the publishers had been unaware of the law change, which had forced the late change of location to Paris.
Tyson was convicted in 1992 for the rape of a teenage beauty queen, and served three years of a six-year sentence.
He also has convictions for assault, cocaine possession and driving under the influence.
Under the new immigration rules, any person who has been sentenced to more than four years in prison is barred from entering the country.