The pop singer posted the cute picture under the caption: "Love the way you look at me"
Is this the clearest sign yet that Justin Bieber and Selena Gomez are rekindling their romance?
Pop star Bieber posted the sweet shot of the pair, who broke up early last year, sharing a sweet embrace on his Instagram account.
Come & Get It singer Sel, who's sporting a huge smile, has her arms wrapped around the Baby singer who's looking into camera in the black and white selfie.
Justin captioned the photo: "Love the way you look at me."
This isn't the first time the pair have posted a cuddly snap since their break up - in April last year Justin posted a shot of him sitting at his computer while Selena sat behind him - but we can't help but think they might be more than just pals this time.
Earlier this week the former flames were pictured together for the first time in months having what looked like a cracking time as they sped about on Segways in the Baby singer's upmarket neighbourhood in Calabasas, California.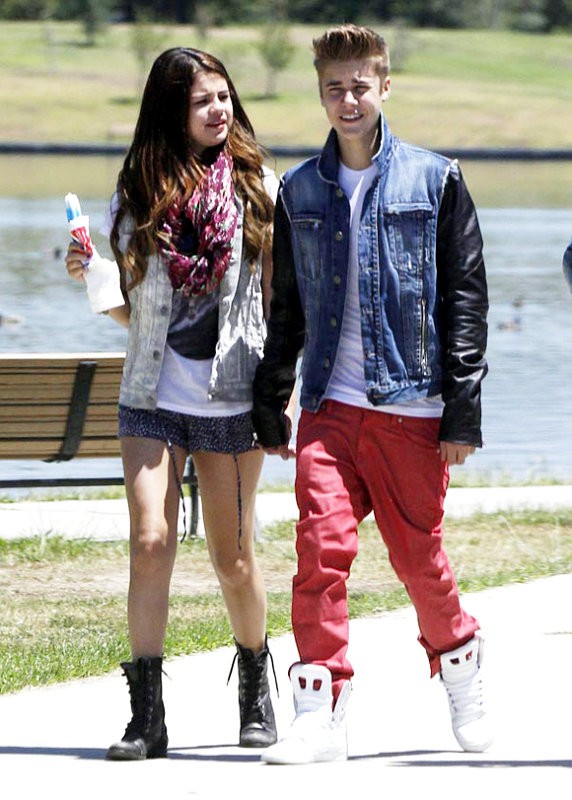 The couple were seen by fans with one writing: "Hey Selena Gomez and Justin Bieber... I thought u broke up???" alongside a picture of them zooming about.
While passerby Nick Sanitsky wrote: "Bieber and Selena segwaying in the Oaks. She was so nice, so he yelled at us."
He also said the pair were holding up traffic and claimed the 19-year-old singer had "ruined" his celebrity-spotting moment by being "rude" to him, but he enjoyed seeing brunette beauty Selena.
Although Come & Get It singer Selena said she was axing the concerts, which were due to kick off on January 16, to "spend time on herself", other reports claim she was battling lupus as well as struggling to get over the Biebs.
While just last month Justin told a radio host at Power 106: "[The break up] affected us, especially when we are in front of so many people. It's such a public thing. It's just hard for the both of us. But you know, she's a great woman. I love her till this day."
Shortly after announcing she was axing the concerts in Australia, China, Japan and the Philippines to focus on herself, the petite 21-year-old admitted she's the "happiest" she's been in a while.
The 21-year-old star posted a picture of herself holding a baby, presumably her six-month-old half-sister, Gracie, on Instagram on Sunday, with the caption: "I'm the happiest I've been in a while.."
Source-mirror.co.uk